Much of North Georgia and Metro Atlanta is bracing for another winter hit. Snow, freezing rain, and ice are predicted to start this evening, Sunday, January 9, 2011 and continue through Tuesday in some places. Friday afternoon the bread was just about gone from the local Kroger, but we did hear the good old Piggly Wiggly had a good supply. Yesterday, back at the Kroger, we noticed another supply was being rolled in. Small propane tanks, usually reserved for a friendly primitive meal around a camping cooking stove, were also all sold out at the local Wal-Mart. Perhaps that's because everyone had already raided the small supply of Mr. Heater Portable Buddy Indoor Safe Propane Heaters. It looks like the area is preparing for the worst, but still hoping for the best considering the memory of our last ice storm years ago was not such a distant memory. Those of us who remember could not easily forget the widespread power outages, fallen power lines, and slip sliding away on the local highways and back roads.
While many clients have cancelled travel plans in anticipation of the impending weather, those that didn't are allowing their pet sitters to use their discretion to bring the pets they are caring for to their homes until it is safe to drive about after the storm. Not all pet sitters regularly board pets, but in an effort to keep up our professional and personal pet care standards we do what we can in emergencies to keep our client's pet's safe, warm, fed, walked (if needed), and loved. By offering to bring pets to our homes in impending dangerous weather situations we keep more vehicles off potentially unsafe streets while all pets continue to receive the care they need and deserve. Going the extra mile is why our clients appreciate what we do so much.
With the increase in stocking up on food and supplies starting days in advance, we hope that everyone will be well prepared for the coming short period of hibernation when we can enjoy family and pets. So, get out those candles and board games, and enjoy your family. Just remember to turn off any space heaters, and blow out any candles before going to bed. Stay safe, warm, and off the roads, and we'll see you when it's safe to venture out again.
Well, we have been in Georgia since…, well, we don't want to say exactly, but for the many years we have been here we don't remember ever having a white Christmas Day! While we were praying that the snow would go farther north (since we have siting appointments scheduled), our customers (and we won't name names) were wishing for a White Christmas. Being from Florida, we can understand their wanting to see some snow. We were just hoping it would have been Christmas night so we could finish the day's sits and the dogs could be nestled all snug in their beds without ice between their pads!
For those clients of ours who are out and about today, please drive safe. As we aimed our car back to home base for a little respite, nourishment, and dry clothes, someone immediately behind us skidded into a ditch. We were a bit concerned because they had been driving awful close to our bumper most of the way down the road. Luckily they backed off a bit when they saw us come up on a truck that was going VERY slow down the hill. We slowed down as well so the car behind us had to as well… until we turned. At that point they decided to go a little faster. Bad decision. Glad it wasn't us.
Does anyone have a snowmobile so we can finish our runs? And are they legal on the highway in the snow?
On Thursday, November 18th, the last meeting of 2010 of the Georgia Network of Professional Pet Sitters (GNPP) had us celebrating the year in retrospect, sharing some great snacks, and thanking the outgoing Board Members Mike Howell of Two Dads Pet Services (former Vice President, coming back in 2011 as President) and Eindy Ramsey of The Pet Shepherd (outgoing President and incoming 2011 Marketing Director) for their work in the past year.
Outgoing Vice President and President
In keeping with the "pet" theme, Eindy was presented with a "Litter Box Cake" for all her hard work as President.
Doesn't this look realistic?
This warning about the potential danger to pets posed by cocoa mulch began appearing in 2001. Unlike the majority of scary alerts spread through the Internet, there is at least some truth to this one, although we know of only one substantiated case of a pet death caused by ingestion of the substance. (In July 2007, "Moose," a 3-year-old Labrador belonging to a Minneapolis couple, died after eating cocoa mulch purchased at a local store. His owners had a veterinarian at the University of Minnesota perform a necropsy to determine the likely cause of death of their young and previously healthy pet. The vet found cocoa shells in Moose's stomach and evidence of theobromine in the shells.)
Veterinarians have noted that cocoa mulch contains ingredients that could pose a health risk to dogs (and other pets that might be tempted to ingest it):
"Cocoa mulch is a risk, especially to dogs," said Dr. Larry Family of Aqueduct Animal Hospital.
Found in most home garden centers, cocoa mulch is known for its fine texture and the sweet smell the fresh mulch gives off. But getting past the scent, Family says cocoa mulch can be dangerous if a dog starts eating it.  It contains two key ingredients found in chocolate: theobromine and caffeine.  Similar to eating chocolate, he says a dog that eats just a few ounces of cocoa mulch could starting having stomach problems and it could get worse if it eats more.
"As time goes on they might act restless, excited, it can produce tremors and seriously seizures," Family explained.
"Puppies are very curious animals.  So they're going to be attracted to various things around the yard and [the effect of eating cocoa mulch] seems to be more severe in the small breeds, and it depends on the amount they actually ingest," Family said.
The American Society for the Prevention of Cruelty to Animals (ASPCA) confirms the potential effects of theobromine and caffeine on dogs:
Cocoa beans contain the stimulants caffeine and theobromine. Dogs are highly sensitive to these chemicals, called methylxanthines. In dogs, low doses of methylxanthine can cause mild gastrointestinal upset (vomiting, diarrhea, and/or abdominal pain); higher doses can cause rapid heart rate, muscle tremors, seizures, and death.
Eaten by a 50-pound dog, about 2 ounces of cocoa bean mulch may cause gastrointestinal upset; about 4.5 ounces,increased heart rate; about 5.3 ounces, seizures; and over 9 ounces, death. (In contrast, a 50-pound dog can eat up to about 7.5 ounces of milk chocolate without gastrointestinal upset and up to about a pound of milk chocolate without increased heart rate.)
According to ("http://petcare.umn.edu/FAQ/Toxicology/Chocolate.htm") tables we've examined, cocoa mulch contains 300-1200 mg. of theobromine per ounce, making cocoa mulch one of the strongest concentrations of theobromine a pet is likely to encounter in any chocolate product.   However, the question of the gravity of the risk presented by this type of gardening mulch remains a matter of debate. According to Hershey's, for example:
It is true that studies have shown that 50% of the dogs that eat Cocoa Mulch can suffer physical harm to a variety of degrees (depending on each individual dog). However, 98% of all dogs won't eat it.
And some of those who vend cocoa mulch note that although they're aware of the pet warnings, they've never encountered a case of a dog's being sickened by the product:
"The weird thing is, it smells like a chocolate Pop Tart.  That's the best way I can describe it.  It really does have a chocolate scent to it," explained Shane Compton of Hewitt's Garden Center.
Compton says cocoa mulch is not that popular at his store, but says it has its regular customers who every now and then wonder about the rumors they hear and the effect it has on man's best friend.
"There's always stories on the Internet, but in the 30 years we've been here we've actually never heard of any body's dog getting sick," Compton said.
Some manufacturers of cocoa mulch (such as the Cocoa Mulch brand) now proclaim that their products are theobromine-free and pet safe.  Responsible pet owners should take care in their selection of cocoa mulch brands; some might prefer to choose another form of soil enhancement for their gardens, such as cedar-based products, rather than gamble their dogs won't be attracted to or harmed by cocoa mulch.
(Although Home Depot is named as a vendor of cocoa mulch in the example cited at the head of this page, the company told us in May 2006 that: "The Home Depot does not and will not sell mulch harmful to pets. The mulch sold by The Home Depot containing cocoa shells goes through several cleaning processes, including a high heat system in order to strip the cocoa fat from the shells without the use of any chemicals.")
The danger of canine theobromine poisoning does not begin and end with cocoa mulch, however: chocolate in any form poses substantial risks to some pets. This most beloved of foodstuffs contains theobromine and small amounts of caffeine, both of which can sicken and even kill cats and dogs.
Chocolate's toxicity to animals is directly related to three factors: the type of chocolate, the size of the animal, and the amount of chocolate ingested.  Unsweetened baking chocolate presents the greatest danger to pets because it contains the highest amount of theobromine, approximately 390-450 mg. per ounce. White chocolate contains the least. As a general rule of thumb, one ounce of milk chocolate per pound of body weight can be lethal for dogs and cats. (Milk chocolate contains approximately 44-66 mg of theobromine per ounce.)
Theobromine affects the heart, central nervous system, and kidneys, causing nausea and vomiting, restlessness, diarrhea, muscle tremors, and increased urination. Cardiac arrhythmia and seizures are symptoms of more advanced poisoning. Other than induced vomiting, vets have no treatment or antidote for theobromine poisoning. Death can occur in 12 to 24 hours.
This type of poisoning is uncommon because it is rare that a dog, even a small dog, will eat enough chocolate to cause anything more than an upset stomach. Yet it can happen, especially if the animal gets into baking chocolate or powdered cocoa, two forms of the sweet particularly loaded with theobromine.
Do not feed chocolate to dogs or cats. If you keep a pet, do not leave chocolate lying about lest your critter help himself to it and in so doing poison himself. If your animal begins exhibiting signs of distress and you believe he might have gotten into some chocolate, call your veterinarian immediately. (It will help if you can supply information about the approximate weight of your critter, what sort of chocolate was ingested; white, milk, dark, cocoa powder, baking; and roughly how much.) But time is of the essence if such a poisoning has indeed taken place, so make the call right away.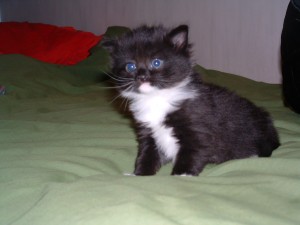 Most of us love cute little puppies and kittens.  And often we find ones that seem homeless that we want to help. The problem is that when we find one we don't know where it has been or what this little bundle of it has been exposed to in the past. We never think that this little bundle of fur can potentially be life threatening. Check out this posting in a local paper regarding a people we would consider as wonderful for help[ing a little kitten. The problem is, this small act of kindness could have been life threatening.  The kitten above was found in Ontario and when taken to animal control was identified,  tested, and confirmed as rabid. It looks cute, and the hidden danger was identified, but not before this bundle of fur bit two children and a parent who had to undergo post exposure rabies treatments.
The article below was in in the Pickens County Progress this year.
Rescued" kitten exposed Cherokee County family and vet assistant to rabies
Canton (GA) June 24, 2010 ~ Cherokee County Environmental Health officials reported that a stray kitten picked up by a family residing on Lake Circle near the Cherokee/Cobb County line recently tested positive for rabies. Members of the family and a worker at a Cobb County veterinarian clinic were exposed to the kitten prior to rabies testing.
Officials said the kitten had been "rescued" by the Cherokee County family on June 2, 2010, and it seemed sickly, so they took it to a nearby animal clinic in Cobb County on June 3. While being treated at the clinic that day, the kitten scratched a veterinarian technical assistant.
"Due to the kitten's illness, it was euthanized, and I was called about shipping the head to the [Georgia state] lab," stated Glen Gordy of Cherokee County Environmental Health. "However, the bite occurred to a person in Cobb County; therefore, I advised the veterinarian's office to call Cobb County Animal Control.
"I was then notified on June 8 by Cherokee County Animal Control that the test on the kitten came back positive for rabies, and it was at that time I learned that the family from Cherokee County had been exposed to the kitten. All people exposed are seeking rabies treatment at a Cobb County hospital and residents in the Lake Circle area were notified to contact us if they believe they were exposed."
To avoid rabies exposure, residents are urged to stay away from unfamiliar animals and to make certain all pets and livestock are current on their rabies vaccinations.
The recommendation for a possible rabid animal bite is to thoroughly wash the wound with soap and water, and then seek immediate medical attention with the following information on hand:
· The geographic location of the incident
· The type of animal that was involved
· How the exposure occurred (provoked or unprovoked)
· The vaccination status of any pets involved
· Whether the biting animal can be safely captured and tested for rabies
For more information about rabies and its prevention, call Cherokee County Environmental Health at (770) 479-0444 or log onto www.cdc.gov.
(http://pickensprogress.com/articleinfo.asp?Link=2207)
There are other stories like this as well.  Check out the one below.
http://www.wormsandgermsblog.com/2009/07/articles/animals/cats/kids-exposed-to-rabies-from-stray-kitten/
Please use caution and think abbout the potential consequences before handling a stray animal whether it is cute or not.  If you have a pet be sure to get it vaccinated  for your safety, your family's safety, and the safety of your pet sitter.
At the end of the Beatles' song "A Day in the Life", an ultrasonic whistle, audible only to dogs, was recorded by Paul McCartney for his Shetland sheepdog.
Declare Independence from Missing or Injured Pets
Los Angeles, CA – Firework displays and parties are American traditions on the Fourth of July, but pets can sometimes be startled by all the commotion of visitors and loud noises. Every Independence Day shelters fill with lost and injured pets. The Society for the Prevention of Cruelty to Animal Los Angeles (spcaLA) recommends taking these simple precautions to keep your pet happy and safe this July 4th:
Dogs and cats should be microchipped and wear current ID tags at all times. This is the best way to ensure a happy reunion if your pet goes missing.
Keep pets safe and secure inside your home. Loud noises from fireworks, can cause a dog to jump a fence and run away from home or a cat to hide for days. Keeping your pet indoors and secure will also keep them from dangerous roadways.
If you're hosting a party, keep your pets in a cool, well-ventilated room with a radio playing softly in the background. Include your pet's favorite toys and pet bed for comfort. Do this as well if you are going out but your pet is staying in.
Do not tie your dog up outside to keep him/her from escaping. The loud noise from the fireworks can frighten your pet making them more likely to attempt to flee. Dogs can seriously injure themselves, or even die, trying to escape.
Educate children to not scare pets with firecrackers or sparklers.
Backyard barbeques are fun for the family, but dangers lurk for curious pets. Keep alcoholic beverages, lighter fluids, matches, and insect repellents like citronella candles away from your pets; each can be toxic or deadly when ingested or inhaled. If your pet requires sun protection, only use sunscreens intended for animals. Some foods are toxic for dogs like chocolate, onions, tomatoes, avocadoes and grapes. Cooked bones can splinter and be fatal.
Follow these precautions for a festive Fourth of July!
(http://spcala.com/newsreleases/2010/julyfourth.shtml)
By: Irreverent Vet
(http://www.petplace.com/dogs/the-irreverent-vet-speaks-out-on-dog-breeds-that-are-bad-with-cats/page1.aspx)
Our customer service department gets a lot of email from dog lovers about every type of question you can imagine about dogs.
Recently, they forwarded some emails they thought were suited to me, the Irreverent Veterinarian. They knew that I would speak the truth regardless if pet owners or other veterinarians liked it or not.
The email that I'll address today is…
Dear PetPlace – I am a cat lover and my husband loves dogs. We have two cats that we adore and he really wants to add a dog to our family. My neighbor has a dog that recently killed a neighborhood cat that just makes me sick. I've asked a few people about which breeds are bad around cats and have not gotten a good answer. Can you give me your thoughts?
So…What dog breeds are especially bad or aggressive to cats?
To be honest, any dog has the potential to be good or bad around cats.
The dogs that are best around cats are dogs that are not predatory and were raised around cats. Especially, dogs raised and socialized around lots of different cats, including your cats.
Many dogs will be good around cats that they know. If a dog is raised with YOUR cats, they are often good with YOUR cats.
However, (this is important!) many dogs they have learned to accept and are good with your cats may be TERRIBLE around other cats. I know of several dogs that live with cats and are considered great with them that have killed other cats that come into their yards. I'm not sure if they don't recognize these new animals as cats or they see them as prey to kill (especially when the cat runs).
If you adopt a puppy, you can socialize him around your cats and he will learn to live peacefully with them in most circumstances. It is always best to slowly introduce cats and dogs and do it while supervised. As you train your new dog and you encounter a new or different cat, carefully supervise the interaction and praise him when he behaves well.
If you choose an adult dog – many times their history may make it difficult to know how they are with cats. Some dogs chase anything that runs.
Which breeds are associated with being particularly bad?
Greyhounds are particularly bad with cats. I suppose their training to chase the rabbit and then seeing a running cat makes it a difficult temptation. They have big mouths and long sharp teeth that can be lethal. This does not mean that ALL greyhounds are bad with cats but their instincts are generally not an ideal choice in a cat-loving household.
Pit Bulls can be very bad with cats. I know they can be great dogs but I have probably seen more cats killed or seriously injured by pit bills than any other breed. I just talked to a friend that is an emergency veterinarian and asked him his opinion on dog breeds that are aggressive to cats. He said in the past month – he saw three critically injured cats (two of which died)– all from pill bulls.
Jack Russell Terriers (recently their name has been changed to Parson Russell Terriers) seem to "enjoy" the chase and have injured or killed many cats.My Final ThoughtsAny dog can be good or bad around cats. Introduce any new dogs to your cat-loving household slowly and while supervised. Always ensure your cats have an "out" or a place to be safe and get away from the dog.That's my opinion and that's all I'll say.
Feel free to disagree or give me your thoughts. Email me, I'm curious about what you think.
This article prompted several emails from dog and cat owners. To be balanced, I'd like to share some of those comments with you. To read these comments, go to: Owners Comments About Dog Breeds Bad with Cats.
Disclaimer
The Irreverent Vet is a columnist that regularly contributes to PetPlace.com. The goal is to add a balanced and alternative view of some controversial pet issues. As happens with all of us, veterinarians can't say what they really think without offending some clients. This commentary allows vets to say what they think and give you, the pet owner, and the opportunity to consider another view. All opinions are those of the Politically Incorrect Vet and not the views of PetPlace.com and are not endorsed by PetPlace.com.
If Disaster Strikes, Do You Have a Plan?
Special Thanks go to John Owens, Peace of Mind Custom Home and Pet Services Inc., Gastonia, NC, and Robin Wakefield Wheeler, Noah's Ark Pet Sitters of Savannah, GA, for their contributions to this article.
Be Prepared with a Disaster Plan
The best way to protect your family from the effects of a disaster is to have a disaster plan. As a pet owner, that plan must include your pets. Being prepared can save their lives. Different disasters require different responses. But whether the disaster is a hurricane or a hazardous spill, you may have to evacuate your home.
In the event of a disaster, if you must evacuate, the most important thing you can do to protect your pets is to evacuate them, too. Leaving pets behind, even if you try to create a safe place for them, is likely to result in their loss, injury or death. So prepare now for the day when you and your pets may have to leave your home.
1 Have a Safe Place to Take Your Pets
Red Cross disaster shelters cannot accept pets because of state health and safety regulations and other considerations. Service animals that assist people with disabilities are the only animals allowed in Red Cross shelters. It may be difficult, if not impossible, to find shelter for your animals in the midst of a disaster.
So plan ahead! Do not wait until disaster strikes to do your research.
2 Assemble a Portable Pet Disaster Supplies Kit
Whether you are away from home for a day or a week, you'll need essential supplies. Keep items in an accessible place and store them in sturdy containers that can be carried easily. The following list contains some great suggestions.
Pet Disaster Supplies
Your plan of action for all of your pets should include, but not be limited to the following:
• Crates. Each pet should have its own kennel/crate with a photo on the crate. On the bottom or back of the photo, write the pet's name, sex, and either your name and phone number(s). The pet carrier/crate should be large enough for the pet to stand up and turn around in.
• Bowls. Each pet should have its own food/water dishes. Have their names written on the bottom of each bowl.
• Information. Have a file on each pet containing health history and vaccination dates. Should you be required to take the pet to a shelter or animal-friendly hotel with you, this information will be required.
• Containment. Have a leash and collar with all pertinent information on the tags readily available. This will include pet's name, rabies tag and contact phone number.
• Food and Meds. Have an ample supply of food and medication for the pet with specific feeding and medication instructions written out in clear handwriting. If the pet tends to be anxiety ridden during storms or car travel, ask your veterinarian for a prescription of sedatives to carry in the pet's personal belongings bag.
• Pack Enough. Remember that you can not predict Mother Nature. You may be evacuated much longer than you had originally thought. Pack enough supplies for an extended stay. If you don't need them, great! You can keep them on hand in case of another emergency situation.
• Do Your Homework First. Locate the area evacuation shelters and pet-friendly hotels in and around your state. A great source of information on this is the Web site http://www.petswelcome.com. Call ahead and find out availability and make a reservation if needed.
Most shelters operate on a first-come, first-served basis. Be one of the first to arrive and give the pets plenty of time to settle in while you are there with them. Remember, this is a new experience for them in a strange place with strange people and it may take a while until they become familiar with the smells, sights and sounds of their temporary home. Keep pets on leashes at all times.
• Strange Surroundings. During or after a natural disaster, a pet's behavior can temporarily change. Packing a muzzle and harness is a good idea in case behavior becomes less than desirable for the place you are staying. The pets may be put into close contact with many new pets they do not know and they may have to be cared for by people they do not know.
• Be Prepared for Accidents. Pack your car with flashlights, batteries, trash bags, baby wipes, newspapers and paper towels in case the pets either get sick or go potty while in their crate.
• Know Your Resources. Learn as much as possible about hurricanes, tornadoes and floods. Familiarize yourself with your area FEMA staff. They can provide you with a wealth of information concerning the area you reside in and what to expect in various types of disasters and the area's evacuation plan.
• There is always the possibility that you and your pets may become separated during a disaster situation. Because of this you should familiarize yourself with the AKC Companion Animal Recovery Program (CAR). This program is dedicated to providing 24-hour recovery services for microchipped and tattooed pets that are enrolled in the CAR database.
Learn more about AKC's CAR Program at www.akccar.org.
Easy as 1 – 2 – 3. Planning for a disaster does not have to be a disastrous undertaking. Remember that a positive, proactive approach is the best plan to make sure everyone and every pet stays calm, cool and collected during an emotionally charged situation.
3 Know What to Do as a Disaster Approaches
Often, warnings are issued hours, even days, in advance. At the first hint of a disaster, act to protect your family and your pets. Planning and preparation will enable you to evacuate with your pets quickly and safely. But bear in mind that animals react differently under stress. Outside your home and car, keep dogs securely leashed. Transport cats in carriers.
Don't leave animals unattended anywhere they can run away. The most trustworthy pets may panic, hide and try to escape—or even bite and scratch. And when you return home, give your pets time to settle back into their routines. Consult with your veterinarian if any behavior problems persist.
Reprinted from Pet Sitters International
http://www.petsit.com/how-to-create-a-disaster-plan
Your pets deserve the best and many times moving them to the loud, unfriendly environment of a boarding kennel can cause more harm than good, especially if they are elderly. Pets are most comfortable and thrive in their own environment, with their own familiar smells, sights and routines. And what boarding kennel takes snakes, hamsters or birds?
What's the alternative? Professional In-Home Pet Sitters! When you call us, Choices Pet Sitters will assign you a pet sitter and schedule a "Meet and Greet" at a time convenient for you. Your assigned pet sitter will come to your home to introduce themselves and our services, and meet you and your pets. You get to see how your sitter and your pets will get along while you are away, and ask any questions you may have about our services. Your sitter will have you fill out important forms to let us know a little more about your pets, what you want us to do if there is an emergency, and to let you know a little more about what our services and policies are.
It's as simple as that. You can schedule the "Meet and Greet" at any time. We keep your information and keys on file in case you have to leave town suddenly or need us to take care of your pets in case you are delayed somewhere and can't get home. Just give us a few hours notice for one visit or at least two weeks, if you can, if you need our services for a few days.
Now you never have to worry about rushing home and transporting your pet to a boarding facility again. We are your pet concierge service! How easy is that?
Choices Pet Sitters
Licensed – Bonded – Insured
Member of Pet Sitters International, Professional United Pet Sitters, The Humane Society of the United States, and the Pickens County Chamber of Commerce.
We serve Pickens and Cherokee Counties in North Georgia including the cities and areas of Jasper (30143), Talking Rock (30175), Bent Tree (30143), Big Canoe (30143), Tate (30177), Nelson (30151), Ball Ground (30107), Canton (30114). Call today to schedule your "Meet and Greet" appointment. We look forward to helping your pets feel comfortable and happy while you are away.